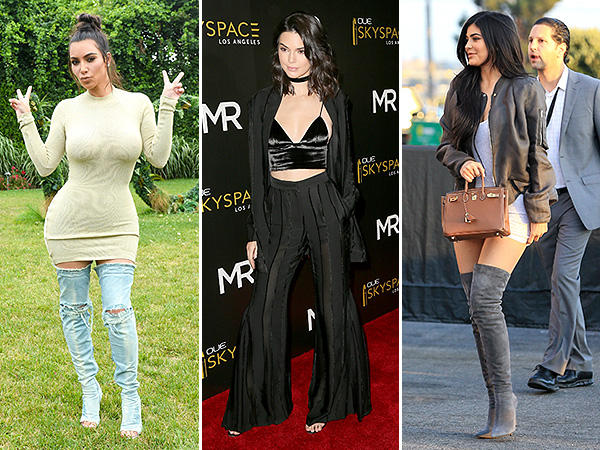 Joe Schildhorn/BFA/REX/Shutterstock; David Livings
"Do the KarJenners have sweat glands?" This is a question I ask myself almost daily. The sisters are the patron saints of hot weather leather and seasons simply do not influence their sartorial choices. Let's reflect on Kim's Revolve in the Hamptons outfit: She skipped a diaphanous maxi for a fall-ready ribbed rayon Trois x Revolve sweater dress (that immediately sold out and has already been restocked), which she paired with denim-over-the-knee Yeezy boots. She looked hot (literally!) as she posed on a lawn in the 90+ degree heat. (This is a woman who keeps her fur coats in rotation all year long — and fur sandals.) Then there's Kendall, who considers velvet a 365-days-a-year fabric, and Kylie who finds suede thigh-highs just as summer appropriate as a pair of Tevas. But the KarJenners are not the only celebrity season benders out there. It's a thing. Hollywood is immune to extreme temperatures and the current heat dome hovering over the country has proved just that.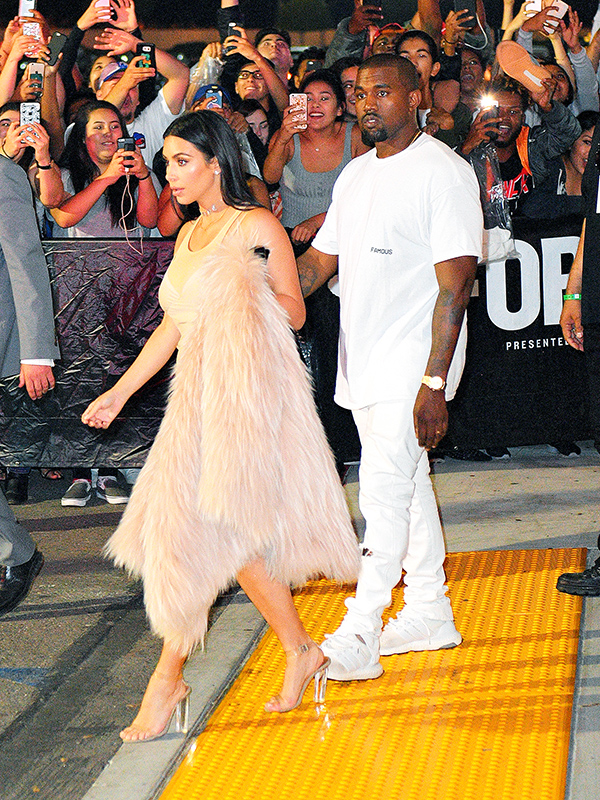 Prince Williams/GC Images
Models seem to be the most seasonally unaware celebrities. While the rest of us are trying to wear as little clothes as possible (without offending our HR department), Kendall and Gigi have been braving the 94-degree days in NYC in leather pants, boots, furry sweaters and cashmere sweatpants.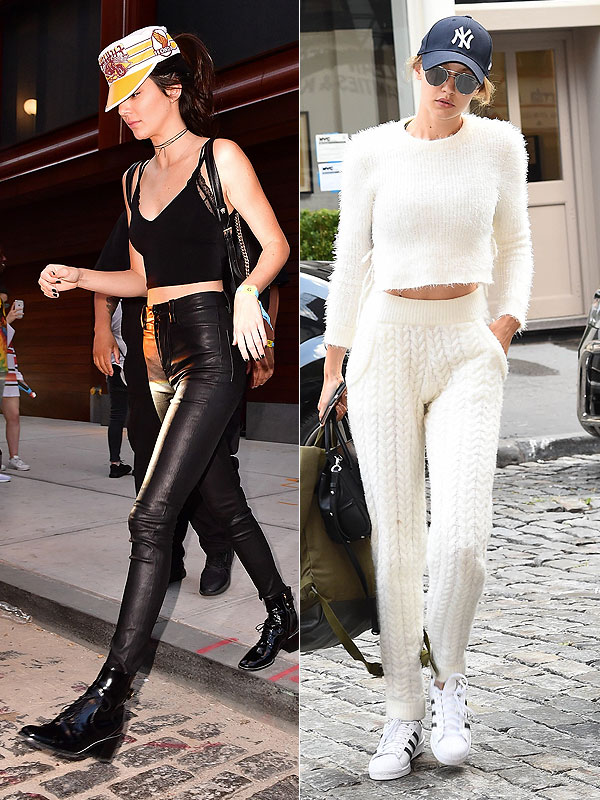 Getty (2)
Then there's Stella Maxwell who did a presser for Victoria's Secret in N.Y.C. Tuesday wearing a blue velvet mini dress with a built-in choker collar (😰😰😰) and matching shoes. The look felt more holiday party than summer in the city, but the pro pulled it off looking perfectly polished and sweat-free in the 92-degree inferno that is currently Manhattan.
So what's with all the aggressive season pushing happening right now? We reached out to celebrity stylist Jennifer Mazur, who works with Alessandra Ambrosio, Olivia Culpo, Olivia Munn and more of Hollywood's elite, to get the insider scoop.
The Fashion Calendar Is Always Ahead
"When stylists work with brands, we're always forced to work a season ahead because that is the season that the brands are promoting through marketing and PR," Mazur explains.
She adds that this forward-looking schedule makes it really tricky when she's pulling clothes for summer events.
"A month ago, I had a client who was going to a bunch of events in the Hamptons and I needed whites and creams and summer clothes. I reached out to a brand and sent over a bunch of selections of stuff I wanted to borrow, and I sent over picks from the spring/summer collection because that's what I would want to put on a client who is going out to the Hamptons," she explains. "The response was, 'Sorry we've already sent these back to the designer. We don't even have them. They're not available anymore.' So then as a stylist you have to go through the fall collection and try to find whites and creams and breathable fabrics. It's not as easy as, 'Oh I like that. I want that! I am going to put that on my client.' There's a lot involved."
Fashion Week also dictates what's available.
"At New York Fashion Week in September, they're gonna be showing the collections for spring 2017. So during the fall season that becomes the collection that is available for us [stylists] to use," Mazur says. "We're working with the free clothes, we're working with the runway collections, we're working with the stuff that's in the showrooms which is all PR-based. We don't have a choice."
**NOTE: This is why you see stars in mini dresses, hot pants and spaghetti straps in a Polar Vortex.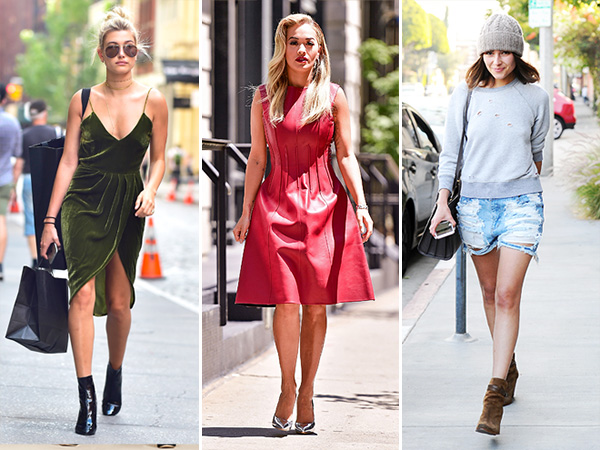 Alo Ceballos/GC Images; James Devaney/GC Images;
The #OOTD Effect
Social media has totally changed the style game. Once an outfit hits Instagram, it's old news.
"If you're going by the theory that celebrities dictate the styles and the trends and celebrities are wearing season ahead because that's what is available to them, then that's what the masses are gonna want to copy," Mazur says. "The turnaround is so much quicker. People are wearing the fall collections now and Instagramming their outfits. By the time the magazines come out with the fall collections everyone has seen everything already because everyone already wore all of it!"
Some Trends Transcend Seasons
Over-the-knee boots happen to be one of those hot right now trends that stars are wearing 365.
"It's just a really, really big trend right now and so people are just not wanting to let it go because the winter season has ended. I just put Alessandra in over the knee boots in London. We didn't even think twice about it — we were like let's just put a fun outfit together. Let's not think about the fact that over-the-knee boots are more for fall and winter because who cares."
The conclusion? Stars will choose fashion over function all day every day.
What do you think of season-pushing stars? Are you ready to dip into your fall wardrobe? Share below!
–Brittany Talarico