Brian Prahl/Splash News
Last week we reported on the style epidemic that struck Hollywood's street style brigade — wearing over-the-knee boots in 90° weather. Today we have an update to that report: The stars have finally succumbed to the temperature and are now wearing silky, satin slips instead. Though they may not be choosing the most sweat-wicking fabric available, you can't argue that these nightie-inspired styles have improved ventilation as compared to last week's look. Kim and Kourtney Kardashian are leading the charge for the silky styles we keep seeing pop up on celebs in these sweltering temps.
Kim Kardashian stepped out in Las Vegas wearing a beige Maiyet silk-charmeuse dress and ribbon lace-up heels, bringing the boudoir to the betting tables with one monochromatic, shimmery look.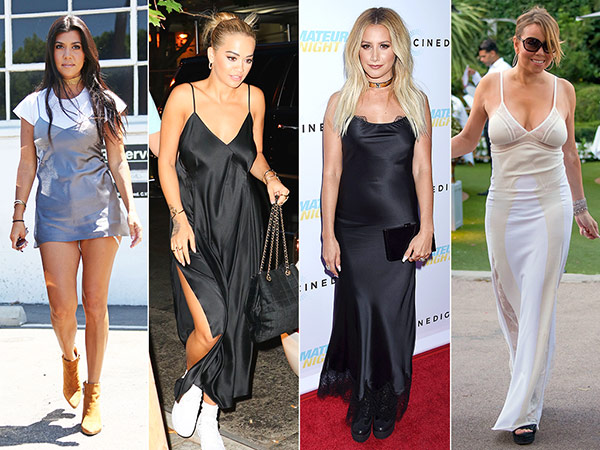 AKM-GSI (2); Broadimage/REX/Shutterstock; AKM-GSI
Her sister, on the other hand, gave the style a more casual spin; Kourtney Kardashian gave her mini moment a full '90s vibe by wearing a white baby tee underneath and a Lili Claspe choker. This is a style previously popularized by her sisters Khloe, Kim and Kendall, but Kourtney had yet to try it until this week.
Rita Ora embraced the nightie vibe in her black loose-fitting, plunging dress witg thigh-high slits. For her night out in N.Y.C. she balanced the sexiness with a casual top knot and white sneakers with ankle socks.
RELATED PHOTOS: Rihanna, Heidi Klum and More Sizzling Celeb Swimwear Pics!
Ashley Tisdale took the trend to the red carpet at the premiere of Amateur Night, picking a black slip trimmed with sexy lace detail. And like Ora, she toned down the heat with a pair of black thick-soled boots.
RELATED VIDEO: Kim Kardashian and Chrissy Teigen Reveal They Fought With Their Husbands at Each Other's Weddings
But naturally, it all comes back to the resident O.G. in nightgown dressing: Mariah Carey. There's never been a slinky slip she didn't like, so of course she packed plenty to take with her on her cruise through Saint Tropez. She was spotted shopping in a lingerie-like dress with lace piping and a plunging neckline last week. Now it may not be the most risqué style she's worn (this week), but it does make her shopping excursion more glamorous than our trip to the mall last weekend.
Ready to try the look yourself? Go for a black version, because while celebs are impervious to temperatures, the rest of us are not. And try flats and a bun hair to keep the look more low-key cool than straight-up lingerie.
What do you think of her dress? Share your thoughts in the comments below.
— Colleen Kratofil
Follow @ckcolleen
[td_block_social_counter style="style10 td-social-boxed td-social-colored" facebook="tagdiv" youtube="tagdiv" twitter="tagdivofficial" googleplus="+tagDivthemes" custom_title="STAY CONNECTED" block_template_id="td_block_template_9″]