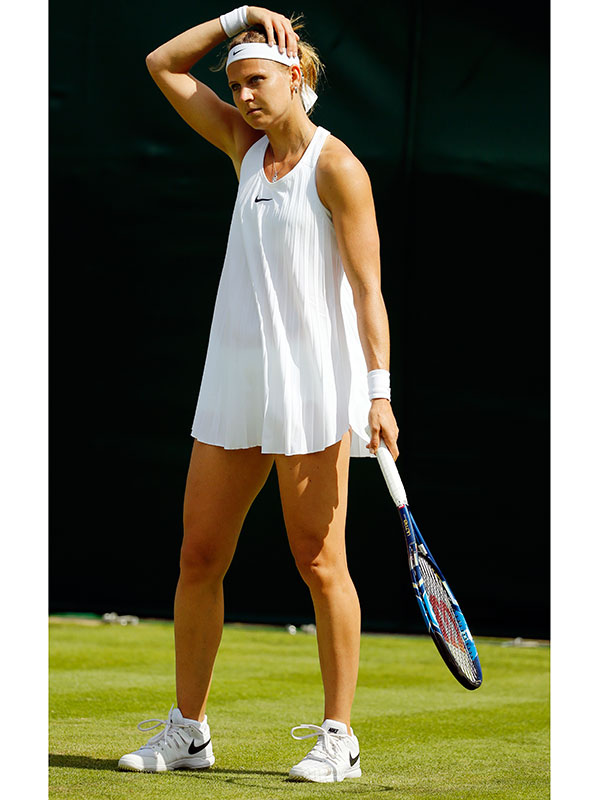 Alastair Grant/AP
Game, set, no match! The Wimbledon tennis tournament just got underway in London and there's already a major upset — the Nike dresses designed for the female players. For those athletes paid to wear the brand's clothing, Nike issues a standard outfit. But this year, instead of sticking to its usual skirt and top ensembles, the brand created a loose-fitting, super-short babydoll dress, which is being referred to on Twitter as a "Nike nightie." And as it turns out, the look isn't "love all" for many of the competitors.
RELATED PHOTOS: Buy It Now: 11 Stylish and Comfy Summer Dresses
Although it stuck to Wimbledon's strict all-white dress code, if you're too thinking that doesn't quite sound "tennis friendly" — neither did the players. Some wore leggings underneath, others put a headband around their waist as a makeshift belt and Rebecca Peterson wore a long-sleeve shirt over the dress to keep it in place. She told the New York Times, "When I was serving, it was coming up, and I felt like the dress was just everywhere," she said. "In general, it's quite simple, the dress, but it was flying everywhere."
RELATED VIDEO: Serena Williams Shows Off Her Body in This Bikini Selfie!
Early in the tournament, Nike announced it would make adjustments by sewing up the slits on each side to make the fabric sturdier, and gave players the option to wear a skirt and top instead. Many felt more comfortable in a two-piece, including Daria Kasatkina, who explained "… if you feel good on the court you can play better." Then added, "If something is bothering you all the time, no. I tried the dress during a practice, and I didn't like it so much. It was always going up, so you can see the stomach, everything. It's not very nice."
If you think we forgot about one of Nike's most famous faces playing in the tournament, Serena Williams, she's on a whole other playing field (so to speak) than other athletes on Nike's dressing list. She gets personalized outfits by the company — and for this tournament that consists of a high-collar dress with pleated mini skirt, which she's "kinda in love" with.
What do you think of the dress?
— Colleen Kratofil