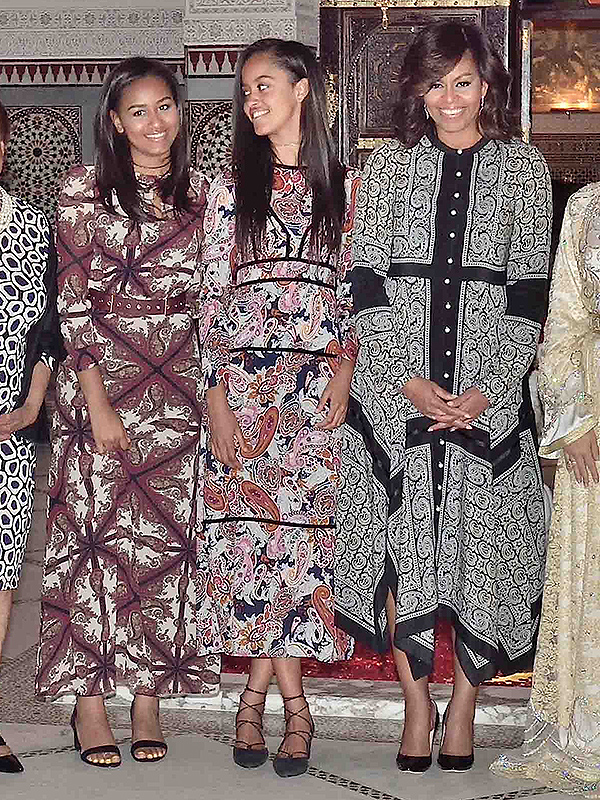 Balkis Press/Sipa
Sure, the Obamas are America's First Family, but they're also undeniably our most fashionable. We all know Michele Obama can rock a primary colored cocktail dress like few other women in this great nation, but on their recent string of family vacations, we've also seen how much Sasha and Malia have grown up into full-blown style stars in their own right. And their latest journey to Morocco only underlines that point.
The Obamas aren't just making headlines for their stellar style, however — they're currently on a global tour for the First Lady's "Let Girls Learn" initiate. They kicked things off in Morocco for a sit-down summit (attended by Meryl Streep and Freida Pinto) with female students, and then followed that up with a meeting with Princess Lalla Salma, the wife of King Mohammed VI, on Tuesday evening, at a traditional iftar, a sumptuous meal held after sunset on Ramadan, at the King's Palace in Marrakesh. Streep also joined them for the meal, but thankfully she was kind enough to leave her Donald Trump guise back in the States.
RELATED VIDEO: Raising Hope's Lucas Neff: Why Michelle Obama Is 'Not Just Her Arms'
RELATED PHOTOS:Michelle Obama's Prints-Packed Tour of Asia: See Every Look!
The FLOTUS and her daughters' ensembles were perfectly matched for the evening affair, with Michelle covering up her famous arms in a long-sleeve, floaty handkerchief-hem dress featuring an all-over white print intersected with contrasting black lines and buttons up the front. Likewise, her daughters also wore boldly printed ankle-length  gowns, with Malia, 17, going for a bright paisley-printed dress with black piping and lace-up flats, while Sasha, 15, gave a slightly different twist on the look pairing her white and maroon printed gown with a matching belt, thin choker, and black strappy sandals.
Basically, if the timeless style of Jacqueline Kennedy Onassis and the international diplomacy of Jimmy Carter could be synthesized into a piece of clothing, it would be these three dresses.
Which Moroccan-inspired look was your favorite? Sound off below!
–Emily Kirkpatrick
Follow @kirkpate