07/27/2016 at 09:50 AM ET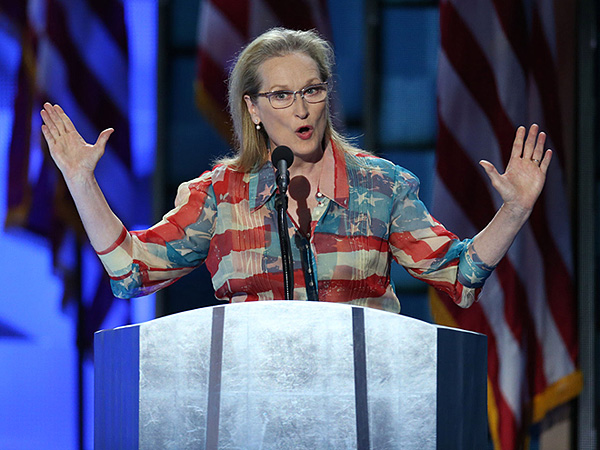 Daniel Acker/Bloomberg/Getty
When it came time to choose a dress for the Democratic National Convention, Meryl Streep pulled out an old faithful (of Old Glory!) right from her closet: Catherine Malandrino's American flag shirtdress, which she first wore while promoting Doubt in 2009. The design packed the right political punch for Streep's powerful speech on Tuesday's DNC stage, and it also happens to be the most popular patriotic dress in Hollywood. See other celebrity fans below.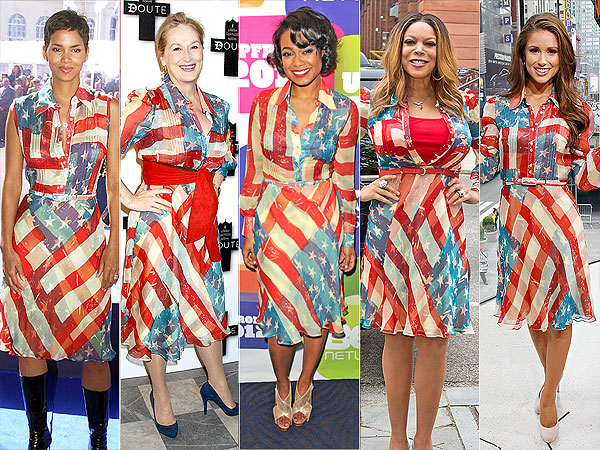 Getty(5)
Halle Berry was the first to wear the look, choosing a sleeveless version for her Swordfish promo tour in 2001. Then Streep hit the carpet for Doubt in 2009 in her stars and stripes, and in 2012, Tatyana Ali wore it to the BET Upfronts.
Katy Perry also has the dress hanging in her closet. The singer selected the design for a Fourth of July weekend outing in 2013, with then boyfriend John Mayer.
In 2014, Wendy Williams wore it to film an episode of her show and former Miss USA Nia Sanchez displayed her patriotic pride while touring her crown. Now we have Streep to thank for resurrecting the festive silk-chiffon dress.
RELATED: Meryl Streep Gives Powerful Speech as Hillary Clinton Trumps Donald in Convention Star Power
Unfortunately, the red-white-and-blue number has been sold out everywhere since 2014. But given that it's election season and Streep's powerful cameo in the shirtdress, we think it's time for Malandrino to re-stock the design.
Do you agree? Share below!
–Brittany Talarico
[td_block_social_counter style="style10 td-social-boxed td-social-colored" facebook="tagdiv" youtube="tagdiv" twitter="tagdivofficial" googleplus="+tagDivthemes" custom_title="STAY CONNECTED" block_template_id="td_block_template_9″]