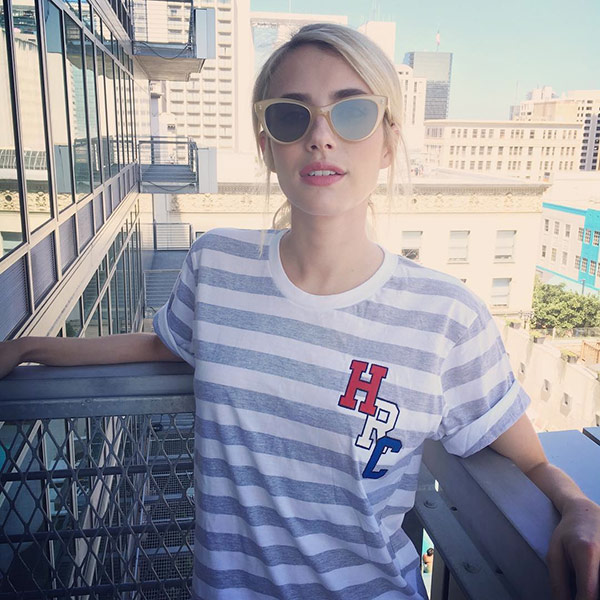 Instagram
Delegates aren't the only ones gearing up for the Democratic National Convention in Philadelphia — celebs are also getting in on the action. Thanks to Hillary Clinton's "Made For History" project, supporting the presumptive Democratic nominee is becoming increasingly fashion-forward: A dozen of-the-moment designers, including Diane von Furstenberg, Marc Jacobs and Marchesa designer Georgina Chapman (who's married Hollywood exec Harvey Weinstein, who hosted a star-studded Clinton fundraiser in June) have created slogan T-shirts (all of which retail for $45) that show their support for the candidate. See how celebs are supporting their candidate, and how you too can show your stripes — even if you're not prepared to publicly go red or blue.
Emma Roberts (above), Jenny Slate, Demi Lovato and more are loving this $45 embroidered initial tee by Tanya Taylor.
Girls star Lena Dunham will be speaking at the convention with fellow actress America Ferrara, and sported a "Love Trumps Hate" tee designed by CFDA-winning designer Pamela Love.
During fashion week in February, Vogue Editor-in-Chief Anna Wintour and Kendall Jenner both donned the Marc Jacobs-designed tee. (It's worth noting that in March, Caitlyn Jenner said that she supports Donald Trump, while Miley Cyrus has spoofed his campaign slogan with a "Make America Gay Again" hat).
And of course, no one has gone more all-out than Katy Perry, who seems to have more Hillary apparel than Hillary herself.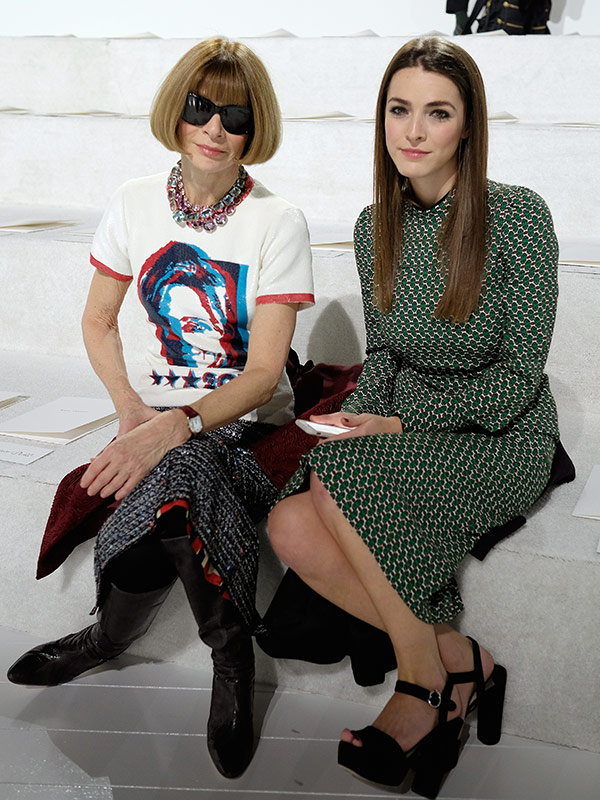 Dimitrios Kambouris/Getty Images for Marc Jacobs
Super-patriotic manicures are also a thing for stars. Check out Dunham's:
… And fellow convention speaker Chloë Grace Moretz's tricked-out tips:
RELATED VIDEO: VIDEO: At Home with the Trumps: Donald and Melania Trump Give Their Very First Interview as a Family
Not keen to wear your heart (well, vote) on your sleeve? You don't have to be aligned with a specific side to sartorially support the U.S.A. (and your right to vote) this election year.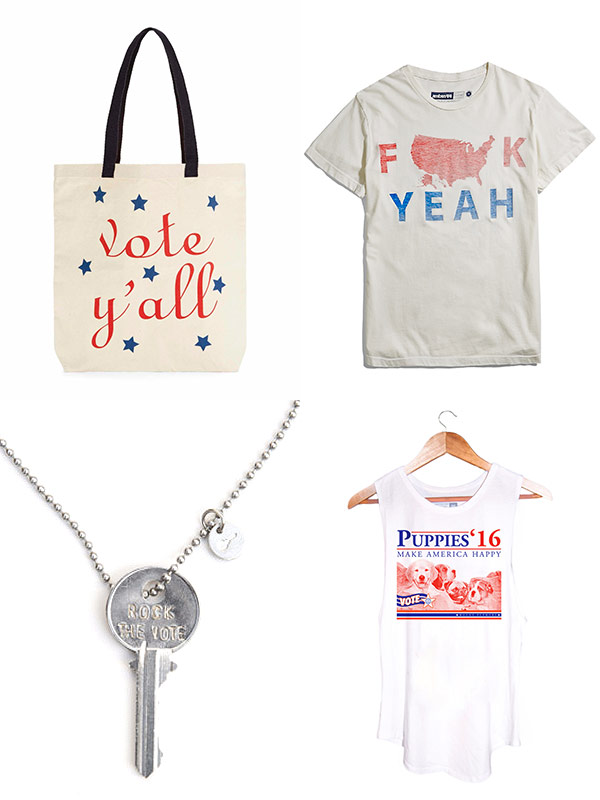 Balmain/Instagram
Reese Witherspoon's line Draper James just released a companion to their best-selling "Totes Y'all" bag, the "Vote Y'all" bag, which retails for $48.
JackThreads has a cheeky vintage-wash $29 AMBSM t-shirt for anyone who wants to remind whoever they encounter of America's greatness without wearing one of those ubiquitous hats.
Handmade in downtown Los Angeles, the Giving Keys limited edition necklace is both made in the U.S.A. and gives back: 15% of the $44 purchase price goes to Rock the Vote.
And last but certainly not least is this $29.99 muscle tank by Puppies Make Me Happy. It's the conversation piece that won't get you in an uncomfortable political conversation at brunch because really, who can argue with puppies and their innate ability to soothe any situation, political or otherwise?
What pieces are you loving? Share below!
–Catherine Kast