07/26/2016 at 01:43 PM ET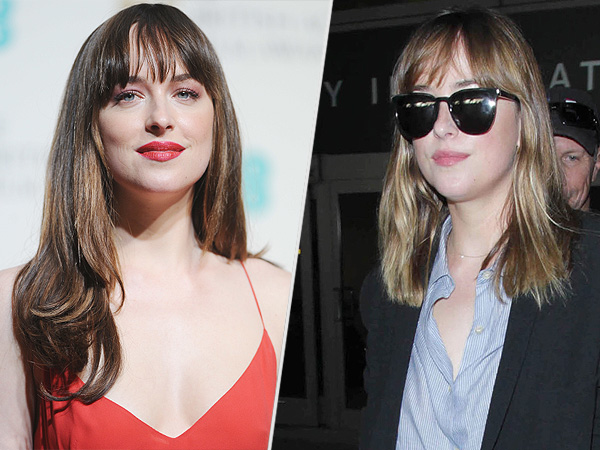 Getty (2)
Anastasia Steele is on summer vacation. Immediately after wrapping up filming for the Fifty Shades of Grey sequels in France, Dakota Johnson hit the salon to shed her character's long, brunette locks and get some thing a little sassier.
The actress, 26, debuted the fresh cut and color — a textured, mid-length style (complete with piecey bangs!) paired with sun-kissed highlights — while out and about in L.A. this past weekend, and we've been obsessed ever since.
RELATED VIDEO: The Best Way to Fill in Your Brows
RELATED PHOTOS: Celeb Hair Makeovers: Better Before or After?
The fresh do comes after filming the NSFW Fifty sequels, alongside Jamie Dornan, which required Johnson to wear her character's low-key, long, straight strands. Before she began shooting, Johnson rocked a number of fun of-the-moment hairstyles, including a shoulder-length bob, a bright blonde hue and blunt bangs.
But her latest look might just be our favorite yet.
What do you think of Dakota's lightened do? Share below!
–Sarah Kinonen
Follow @sarahkinonen
[td_block_social_counter style="style10 td-social-boxed td-social-colored" facebook="tagdiv" youtube="tagdiv" twitter="tagdivofficial" googleplus="+tagDivthemes" custom_title="STAY CONNECTED" block_template_id="td_block_template_9″]