07/25/2016 at 04:40 PM ET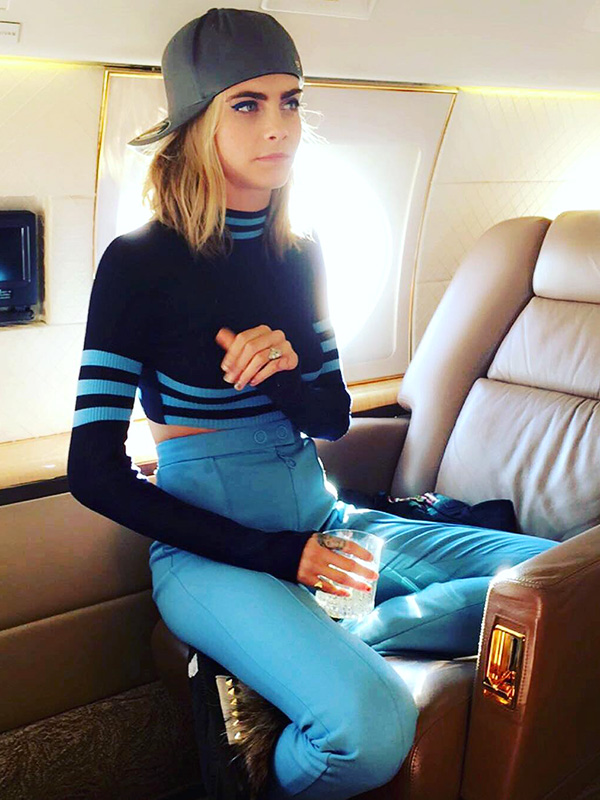 Jared Leto Instagram
Cara Delevingne ia still wearing that mystery ring. The 23-year-old model and actress is busy promoting her new films at ComicCon, and it's hard to miss the bling on her left ring finger.
Jared Leto shared a snap of his Suicide Squad co-star on Instagram and her ring is front and center. It looks like the same vintage-inspired design — featuring tiny diamonds and a blue sapphire stone — that Delevingne's been sporting for the past six months.
The star first sparked engagement rumors after she was photographed wearing a ring at Chanel's spring 2016 show last October alongside her girlfriend Annie Clark, the musician better known by her stage name, St. Vincent.
While the couple is not revealing their relationship status, Delevingne told Vogue last year that Clark is "a big part of why I'm feeling so happy with who I am these days. And for those words to come out of my mouth is actually a miracle."
RELATED VIDEO: Cara Delevingne Reveals the Craziest Thing She's Ever Done for Love
The star also got really candid in the new issue of Love Magazine openly revealing she's a member of the mile high club.
"I've had sex on planes a lot," she said. "But I've always been caught. It's super-hard not to get caught."
And we're sure there will be a few more candid confessions from the star as she continues to promote Suicide Squad.
What do you think of Delevingne's ring?
–Brittany Talarico