06/23/2016 at 08:50 AM ET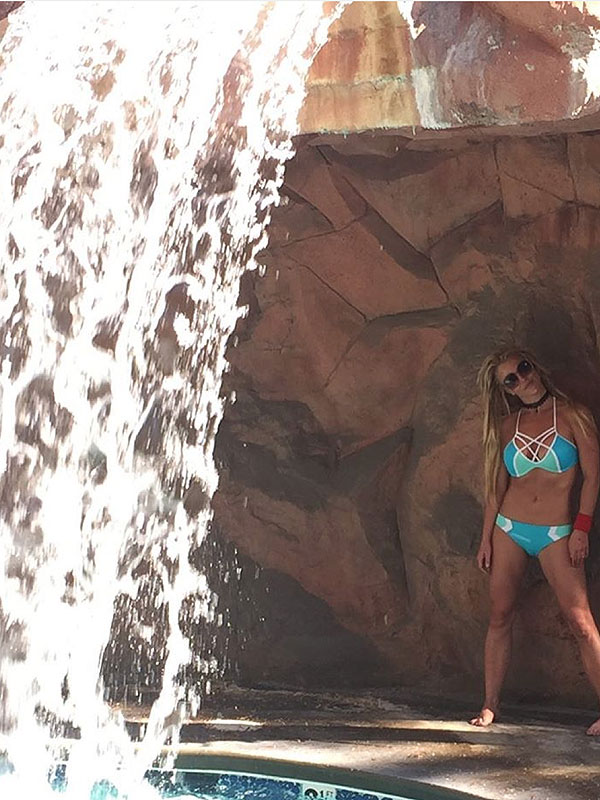 Source: Britney Spears Instagram
Britney Spears may have just found the best way to shake off her haters.
The 34-year-old singer posted a bikini-clad video to Instagram on Wednesday night, dedicated to all those who have nothing nice to say about her.
Standing in the shade, poolside by a waterfall, Spears took a break from the hot Las Vegas sun — "Twirling for all the haters," as she put it.
Spears wore a her  blue, white and green Victoria's Secret PINK two piece, with white straps. Her oversized sunglasses accented the pitch-perfect summer look. She even managed to make a red wrist sweatband look cool.
"My head is melting it's so hot in Vegas!!" she wrote in a static Instagram shot of her look.
Of course, Spears has posted her fair share of bikini Instagram videos in the past — most recently while "just chillaxing" at the bool during her Memorial Day Malibu vacation.
A video posted by Britney Spears (@britneyspears) on May 29, 2016 at 9:22pm PDT
RELATED VIDEO: Britney Spears Shows Off New Swimsuit as She Showcases Slender Physique
Spears just returned to her hit Las Vegas show Piece of Me, where she spends 90-minutes performing her well-known hits. Here's hoping a "twirl for her haters" makes it in to the show moving forward.
What do you think about Britney's message to her haters? Will this be the Internet's newest meme? Share your thoughts in the comments below.
— Dave Quinn