07/28/2016 at 03:46 PM ET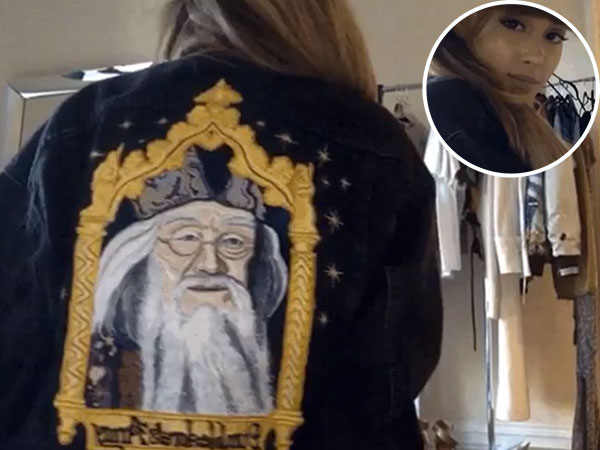 Source: Ariana Grande/Instagram
Here's a fun fact about Ariana Grande: She's a serious Harry Potter fan. "But PeopleStyle," you say. "Everyone is a huge Harry Potter fan." Sorry, but Grande might have you bet. After broadcasting her love for the magical book and movie series via a brand-new, custom-made Albus Dumbledore jacket, there's no way you'll ever doubt her admiration for the wizarding world.
The 23-year-old singer debuted her new oversize, denim jacket, complete with an embroidered portrait of headmaster Albus Dumbledore's face on the back, in an adorable Instagram gif, captioned:
"muggle in the streets wizard in da sheets ~ thank you @riowarner & @dirtyneedleembroidery for this ridiculously amazing custom jacket ✨⚡️🌙 I love you." (Check out how it was made, below!)
RELATED VIDEO: Is Ariana Grande Really a 'Dangerous Woman'?
Grande's Dumbledore topper fits her petite frame in an adorably oversize manner (though it's only a matter of time before she shrugs it down to her elbows, as she does with pretty much every jacket she owns. But we digress).
RELATED PHOTOS: Stars Wearing Other Stars on Their Clothes
And for those keeping tabs, in the last week alone, Grande's style has taken a Dangerous turn. (We don't mean that literally … unless, of course, she's colluding with He Who Must Not Be Named). The singer switched up her go-to, long style in favor of a set of blunt bangs, which is a major change from her signature sky-high pony. And now that's she's chopped her fringe, we're hoping she follows these tips and tricks so her new do doesn't fall victim to the heat wave.
What do you think of the singer's themed topper? Share below!
–Sarah Kinonen
Follow @sarahkinonen
[td_block_social_counter style="style10 td-social-boxed td-social-colored" facebook="tagdiv" youtube="tagdiv" twitter="tagdivofficial" googleplus="+tagDivthemes" custom_title="STAY CONNECTED" block_template_id="td_block_template_9″]